Login
Log in if you have an account
Register
By creating an account with our store, you will be able to move through the checkout process faster, store multiple addresses, view and track your orders in your account, and more.
Create an account
Howly Grail
There is nothing more desirable than winning the lottery. Right? Wrong! The most desirable thing in this world for true beer geeks is winning beer! That got us thinking: why don't beer geeks have a lottery of their own? So we created our own totally random lottery system. We're calling it (drumroll please) THE HOWLY GRAIL.
How does it work?
In this batch our Uiltje brewmasters hid a Golden Grail behind the label of the cans. The lucky Frodowl who finds the Grail after peeling off the label of the can, wins a huge prize! But thats not all! If you don't find the Howly Grail, you still have a chance of winning FREE STUFF!
1st Prize (1 available):
A XL Fresh & Fast membership for the lucky finder (€552,-). And a XL Fresh & Fast subscription for the place where the can containing the HOWLY GRAIL was bought!
2nd Prize (5 available):
A XS Fresh & Fast membership (€96,-)
3rd Prize (10 available):
50% off all Fresh & Fast subscriptions.
What does it cost to play?
Close to nothing, my friend! The only thing you have to do is to buy one of the limited Howly Grail boxes. With that purchase, you'll get a box of 12 cans, each 440ml.
That's 12 chances of finding the Howly Grail!
If you already are a Fresh & Fast subscriber, we'll send you your chance at these prizes with your subscription! You won't have to buy the Howly Grail for this, but you'll miss out on great beer though.
One HOWLY GRAIL to rule them all!
To make things really interesting, we have rolled out a whole HOWLY GRAIL program. The awesome little golden (well, pretend gold) ball, is worth a half year's of bliss in the shape of a Fresh & Fast membership for the lucky finder. Sweet Jesus Holy Mother Mary of God! We may even feature you on our Instagram. Simply put, this is the most precious prize we could think of giving. Keep it yourself or give it to your mom! 
We're also giving away that same price to the place where the can containing the HOWLY GRAIL was bought. So get your favorite bar or bottle shop involved!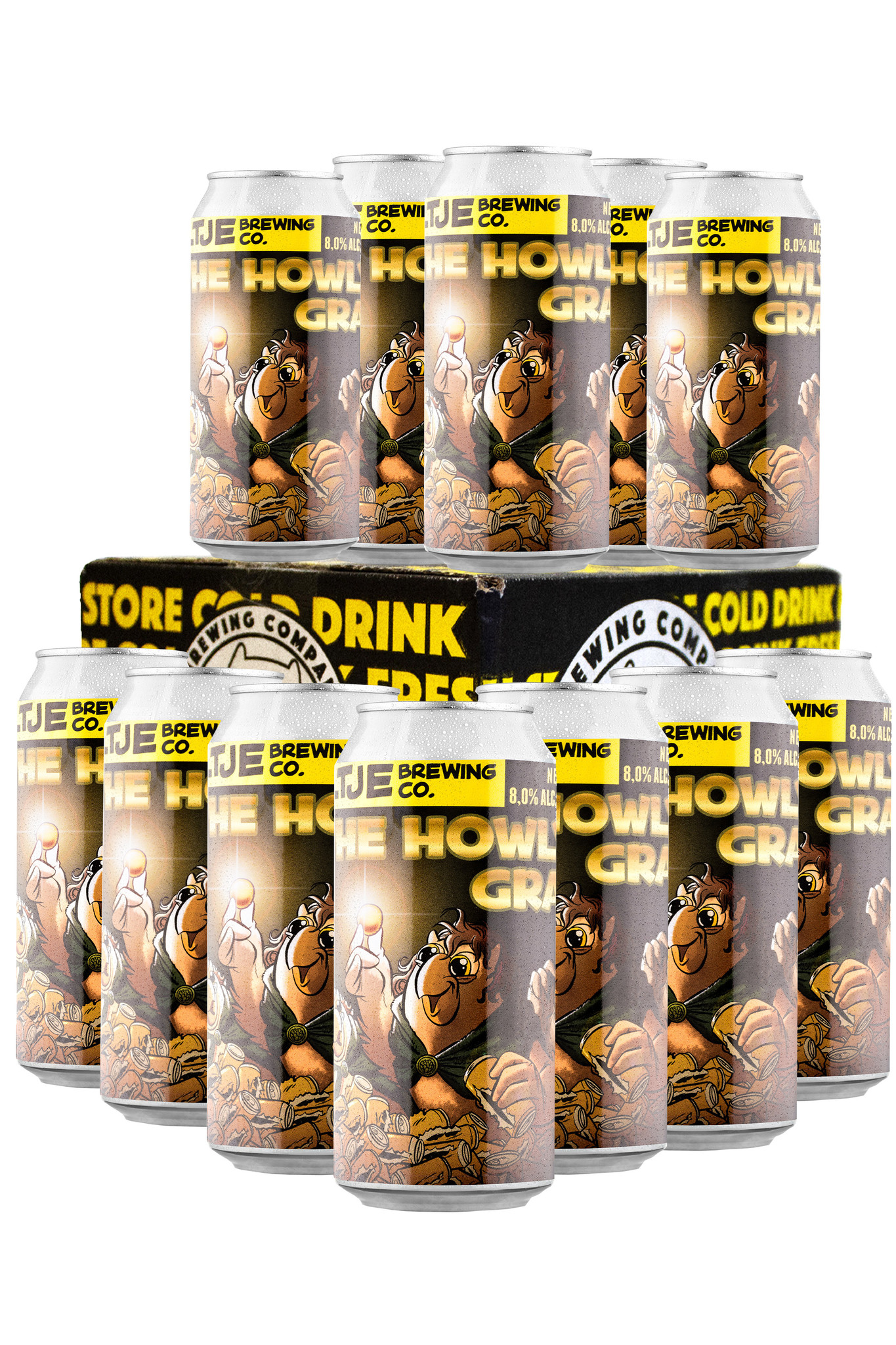 Additional prizes!
If your cans did not have the Howly Grail hidden behind the label, you just might still be in the race of winning some FREE STUFF! From all the buyers we've bought their box of Howly Grail cans trough our webshop, we'll draw 5 names. If that's you, and you've subscribed to our newsletter, you've won yourself two months of Fresh & Fast beer! Most important thing to remember here:
YOU ALSO HAVE TO SUBSCRIBE TO OUR NEWSLETTER in order to participate.  
How to play? ONLINE
3. Wait until your box gets delivered. Shipping end of October.

4. Enjoy a SUPER-FRESH box of beer. Yum!!

5. Peel off the label and find out if you've won!

Are you a bottleshop/bar/liquorstore and want to participate? Buy a box of Howly Grail trough the regular sales channels.
How to play? OFFLINE 
All you or your favorite bar or bottle shop have to do is to get some boxes of Howly Grail in! To win you gotta be lucky.
Official rules:
-Subscribe to our newsletter
-Don't cheat
-Be nice to others
-Don't complain to us if you don't win
-Enjoy the ride 
-Make sure to follow rule number one
So... you bought a box of Howly Grail?
That might mean you've found the Howly Grail!!
If you did, please drop us an e-mail at [email protected]
You did not find the Howly Grail? Not to worry!
If you participated in the race to win free beer, you've had the pleasure to drink super-duper Fresh Beer! Lovely wasn't it!? If you loved it, we would love to have you on board the Fresh & Fast project!
Read all about it, and get yourself some fresh beer, by clicking here!