Login
Log in if you have an account
Register
By creating an account with our store, you will be able to move through the checkout process faster, store multiple addresses, view and track your orders in your account, and more.
Create an account
Fresh & Fast
WHAT'S THAT "FRESH & FAST"?
Hop-forward beer styles such as IPA, New England style IPA, Pale Ale, Double, and Triple IPA should be enjoyed fresh... As soon as possible after packaging.
An IPA is like a fresh croissant... You wouldn't step into the bakery on Monday morning to buy a croissant for next Friday, would you!? This is the reason why we've introduced Fresh & Fast. Only hop-forward beers delivered to your doorstep the day of, or the day after packaging. This way you can enjoy your IPA almost as fresh as our brewers do straight from the tank.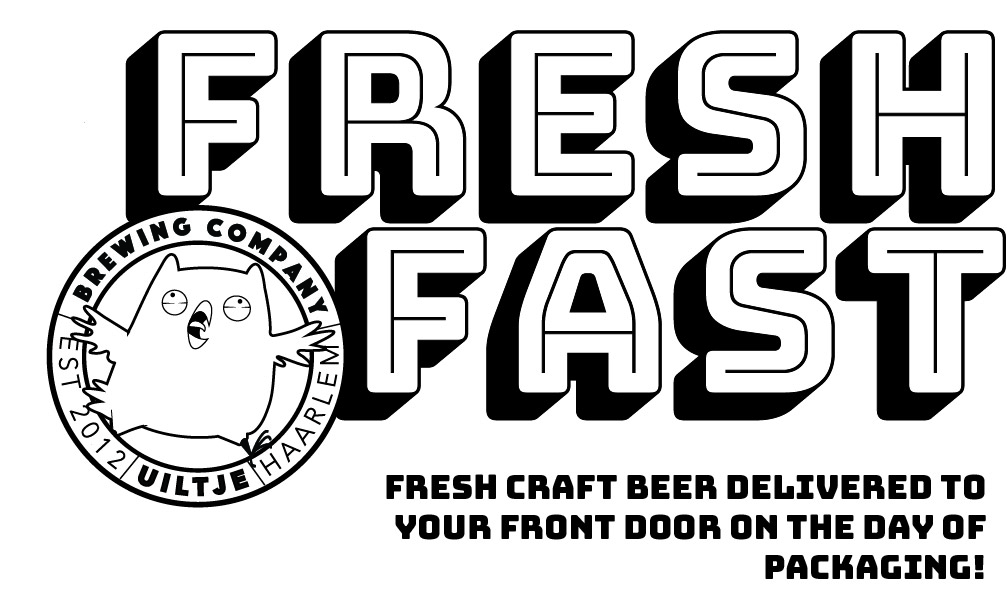 WHY DO WE DO THIS?
We know an IPA is best enjoyed as fresh as possible, but do you? Most beer is stored too long and too warm in warehouses, which is bad for the quality of the beer. With Fresh and Fast we can show you what it's like to drink a really, really fresh IPA at home from your own fridge.
! ! ! ! ! CANS CANS CANS ! ! ! ! !
The beer we will be sending through our Fresh & Fast program will only be packaged in cans. Canned beer is better for the beer's flavor, aroma and it's also better for the environment! Because of the aluminium package, sunlight won't reach the beer and that way it will keep its hoppy flavor even better than bottled beer. A pack of Fresh & Fast beer comes in a box of 12x440ml cans!
OK, AND HOW DOES IT WORK?
Twice a month, we ship out a Fresh and Fast delivery in cases of 12x440ml cans. We only start brewing when 75% of the beer is pre-sold. This way we make sure the beer will be shipped out the day of packaging and is not unnecessarily stored in our cold room in the brewery. Thursdays are packaging days; afterwards the beer will be picked up by DPD and delivered to your doorstep the following day. Definitely before the weekend begins!
Oh and if you live in one of Holland's 30 largest cities, then you are lucky! Because on Thursday, the
beer will be picked up by a bike courier service and delivered the very same evening!
* Those largest cities are: Alkmaar, Amersfoort, Arnhem, den Haag, Enschede, Groningen, Hengelo, Nijmegen, Uden, Zwolle, Almere, Amsterdam, Breda, Deventer, Gorinchem, Haarlem, Hilversum, Rotterdam, Utrecht, Alphen aan den Rijn, Apeldoorn, Den Bosch, Eindhoven, Gouda, Helmond Leeuwarden, Tilburg, Zutphen.
Fresh & Fast Release Schedule
27 June - Tomahawk Tigershark: 6,5% IPA
11 July - E.D. Phone Home: 4,5% El Dorado Single Hop NEPA
25 July -  WIlliamette wookie: 9,5%TDH NEIPA
8 August  - Back to The Fuggle: 4,6% English IPA
22 August - Ella The Circus Elephant: 8% Grapefruit Double IPA
5 September - Soraci Stingrays from the Abyss: 6,6% Brut IPA
19 September - Flight of the Falconer Falcons: 7% Rye IPA
HOLY SHIT! I WANT THESE FRESH BEERS! NOW WHAT?
If you want to ensure yourself some of the next Fresh and Fast delivery you can subscribe to one of these possibilities:
SUBSCRIPTIONS: