Login
Log in if you have an account
Register
By creating an account with our store, you will be able to move through the checkout process faster, store multiple addresses, view and track your orders in your account, and more.
Create an account
Meet the Brewer: Roel!
18 Dec 2019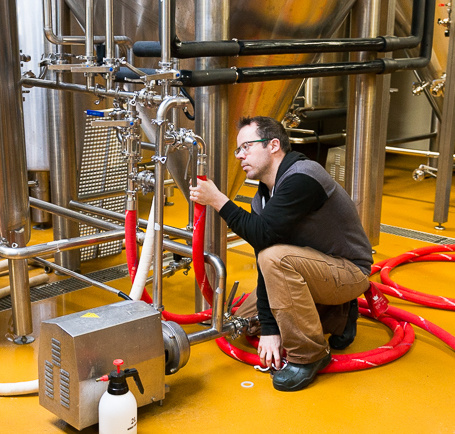 To kick off our 'Meet the brewer' blog series, we're going to begin with Roel, one of our most experienced brewers and 'founding fathers' of Uiltje, helping to establish the Uiltje nest. I began by asking the obvious question - how did he Roel end up in the brewing industry as a brewer? 
Time for a change
Well it all began Down Under, where Roel was at first only home brewing but then came across a brewing course at Perth University - "it was a sign to have a career change" as he explained to me. Whilst studying and in order to further develop his brewing knowledge, he volunteered at a local brewery as well as doing an internship with the well known Little Creatures brewery. Once he graduated, he worked for two years with craft brewers Mash Brewing. Having already gained lots of brewing experience in Oz and with the birth of his daughter Laura - for which perhaps not surprisingly there was a celebration beer brewed! - Roel and his wife Ilse decided to move back to the Netherlands.
Back to the Netherlands 
Whilst making plans to move back to the Netherlands, Roel had been in talks with Jopen and so the decision was made to move to Haarlem. Roel was a part of the setting up process and once it was completed, he  brewed at the Jopenkerk for two years as their head brewer, and it was here that he first met Robbert Uylemann. Roel and Robbert, who at the time was working behind the bar in the Jopenkerk, soon became friends, bonding over their passion for home brewing. After Jopen, Roel started a new venture at Brouwerij T'ij where he helped commission their two breweries, notably the Zeeburgerpad. At T'ij he helped with recipe development as well as being the "face of the brewery". It is clear that very quickly Roel was making a big impact on the Dutch craft beer scene...
Building the Uiltje nest
It was during a trip to the US that Robbert shared his ideas about starting a craft beer brewery and Roel expressed his interest in helping to set this up. After all, having helped to commission three breweries already, what was one more? 
Having helped to set up the brewery, Roel has served as the head brewer until the beginning of this year. However the responsibility and the tasks that go with being in charge of the brewery meant that Roel wasn't able to spend as much time brewing as he liked. Since then Roel has handed over the responsibility of head brewer to Dan, which has allowed him to spend more time on the brewing floor. Aside from brewing, Roel has also had an input into our developing our recipes and very importantly, for maintaining our lab, ensuring that our craft beer is always up to scratch! One cannot write a blog about a brewer without asking which beer he likes to brew the most. In Roel's case it's an imperial stout, explaining that he adores the smell of the brew during the process, in particular during the mashing in stage. Another thing that Roel particularly enjoys is sharing his wealth of brewing knowledge, which he has done enthusiastically over the last few years by helping to train up our Uiltje brewing team. I can attest to this- as the tour guide at Uiltje, I am always looking to improve my knowledge on our brewing process and on craft beer generally and Roel is always more than happy to pass on his wisdom. 
This blog has been only a brief insight into Roel's diverse brewing career but it hopefully demonstrates the passion and the admirable contributions that he has made to the Dutch craft beer scene so far! And don't forget to take a look at our beers, to see some of Roel's best creations that have helped to shape the Dutch craft beer market to what it is today!
Leave a comment